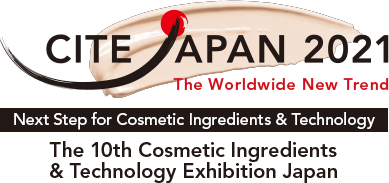 DAITO KASEI KOGYO CO., LTD.
Booth:
C2-1
Exhibit Highlights
Our products lead you sustainable future development
DAITO KASEI is developing natural origin products to contribute to sustainable society. We have been selling biodegradable spherical cellulose beads for more than 15 years and we suggest it as alternative to plastic microbeads. We show various products and formulas to meet customers' expectation.
Product 1
Biodegradable spherical cellulose beads "CELLULOBEADS"
Ocean pollution due to plastic microbeads was reported as a particularly grave safety and environment issue. Our natural cellulose beads is biodegradable and it makes a perfect alternative. We have big particle size for facial wash, and small particle size for make up to give better texture and soft focus effect. FSC certified material is used and it contributes for sustainable society.
Product 2
Natural polysaccharide with barrier function "SACRAN"
SACRAN is extracted from suizenjinori, an algae that only grows in the pure water springs located at the foot of Mt.Aso volcano in Kumamoto prefecture. It gives not only for moisturizing effect for skin but also barrier function to protect skin from cigarette smoke or automobile exhaust. It is possible to add good features for skin care products to protect sensitive skin.
Product 3
Natural Dispersion and Rayon fiber using Kishu Bincho-tan
CHARCOPOWDER is a powder for cosmetic use that contains only Kishu Bincho-tan that grows in Wakayama prefecture. We developed dispersion and rayon fiber using CHARCOPOWDER. We expect deodorant effect and suggest for skin care products. We suggest rayon fiber for cosmetics with natural concept. Throughout Kigyo no Mori project, we contribute to the protection of beautiful nature and CO2 reduction.
Product 4
Natural surface treatment with good dispersibility "PGQ"
PGQ treatment is natural surface treatment with good dispersibility. The property of this technology is giving low viscosity and water repellency that can archive cosmetics with long lasting. RSPO certified oil is used and it contributes for sustainable society.
Product 5
Natural powder to produce new employment "SILK COTTON PW"
We developed SILK COTTON PW for cosmetics from SILK COTTON derived from SILK COTTON TREE. It is very light and bulky, and very high oil absorption comparing with other bulking powders. It also shows superior soft focus effect. SILK COTTON TREE is deciduous tree found in subtropics area. To use SILK COTTON PW leads to product new employment.
Product 6
Novel technology with advantage of wet slurry pressing process "SFL"
Wet slurry pressing process gives soft texture and easy picking up because of microscopic voids souffle like structure. But poor productivity and higher production cost are issue as disadvantage. We developed SFL treatment showing the advantages of wet slurry pressing process by our surface treatment technology. SFL treatment contains binder and it makes possible to make binder free formulation.
Product 7
Silicone elastomer gel with superior soft focus "MAKIVEIL SS"
By our special technology, we developed MAKIVEIL SS which is new texture of silicone elastomer gel. It has superior soft focus effect, mattifying effect and cushion texture. MAKIVEIL SS is high solid content and it makes possible to stabilize formulations.
Product 8
Water absorbing polymer giving unique texture "MAKIMOUSSE"
MAKIMOUSSE has very powerful water thickening property and it shows very unique texture in water. Original polymer is MAKIMOUSSE 400 whose particle size is relatively big for cosmetics and we developed technology to control particle size to be smaller for more cosmetics applications. Depending on grades, it gives fluffy texture or smooth texture. MAKIMOUSSE is more stable than other thickener.
Exhibit items
Cosmetic raw-materials
Languages can communicate during the exhibition
English
Contact
*The following information is provided to enable inquiries to exhibitors.
Unauthorized use and reproduction for any other purpose is prohibited.